Frankfurt Marathon – An Insider's Perspective
Running a marathon as been a dream of mine for many years. Even though I feel more at home in winter sports such as ice hockey or skiing, endurance events have always fascinated me and to some extent have also always been a part of my life. Triathlons, cross-country skiing events, road races; I've done a few of these before. But running 42195 m would definitely be something else. For years I had told myself that it was too long, too hard on the body and too intense to train for. Where would I take the time and energy from? So I put the project on hold and it felt alright where it was.
But when iRewind got the opportunity to cover a number of running events in Europe for ASICS by providing each participant with a personalized finisher video, I knew my time had come. If I was going to run a marathon, I wanted it to be captured in a moving picture! So I went through the list of options; Barcelona in March was too early, Vienna was a Women's run, Stockholm in June also too early and London was merely a 10K.
So the Mainova Frankfurt Marathon it was and October 27 became a date I marked red in my calendar. Weeks and months of training went into it. I got myself a pair of ASICS shoes, signed up to a couple of 10Ks and a half-marathon…
The possibility to get to know both the organizer's as well as the participant's side was tremendous. And I believe it helped throughout process, particularly regarding the communication of the finisher video service as I was collaborating with the Frankfurt Marathon very closely. And they did a fabulous job talking about the service early on. You could tell from the comments on social media that runners were getting excited about it. They shared it with their friends, they interacted with it. While it was presented by ASICS it came across as a digital service offered by the organizers.
We had agreed on the 21k, 30k, 40k and finish line as the camera points, focusing on the parts of the marathon that would prove to be among the toughest. Speaking of tough: rain set in about 2 hours into the race but both the runners and the equipment kept on going strong until the very end.
Only a couple of hours after the race – I had barely taken a shower and regained some of my energy – I already received an email with the link to my finish line video. I was looking at a sincere moment of pride and emotions, captured by two cameras, presented by ASICS. I downloaded the video and shared it on Instagram immediately. I also shared it via WhatsApp with my family and friends. The result: hundreds of views and likes and more than a dozen comments. While that wasn't the goal it was proof to me that even someone as social media passive as me could get this type of response from a personalized video.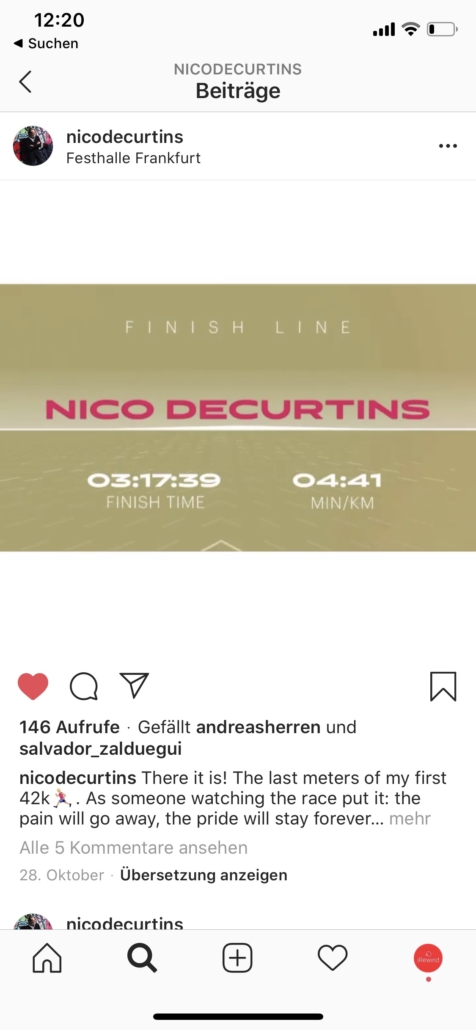 Seeing this also makes it easy to understand why ASICS is so happy with the level of engagement they are getting from this activation. The next day I received a second email from the organizers with a link to my photos, my results and my long video. That second, 2-minute video was a souvenir I wanted to keep for myself. I will make sure to keep it in a safe place.
Will I run another one of these? Never say never, but for now I look forward to winter time, the first snow and the next cross-country ski marathon. Luckily we'll be there, as well to capture the racers – can't wait to relive it!

https://irewind.com/wp-content/uploads/2019/11/Bildschirmfoto-2019-11-06-um-12.31.58.png
680
1257
News
/wp-content/uploads/2017/03/logoneu_1.png
News
2019-11-06 12:41:07
2020-03-24 11:36:55
Frankfurt Marathon – An Insider's Perspective