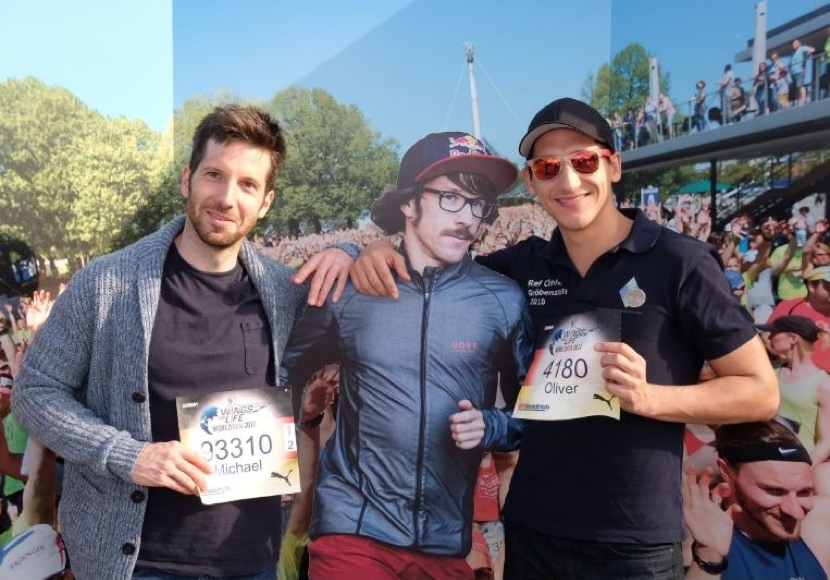 Computer Visioning solution successfully deployed at the Red Bull Wings for Life Munich and at the Wizz Air Skopje Marathon
iRewind successfully deployed a computer visioning solution (Optical Character Recognition or OCR) at the Red Bull Wings for Life Munich and at the Wizz Air Skopje Marathon. Specifically, the bibs of the runners were visually recognized, indexed and compared with metadata, such as name, e-mail and category.
For the Red Bull Wings For Life World Run in Munich on May 6, 2017, photos were optically indexed in a "photo booth" right before the start, enriched with a branding overlay and sent to the participant by e-mail within a few minutes.
For the Wizz Air Skopje Marathon on May 7, 2017, finisher videos and photos were published for the first time in an integrated way. Participants find both their photos and their personal finisher video with just one click. Both are displayed in the same widget and are fully and seamlessly integrated into the organizer's website.
Technically, the videos were recorded with iRewind SmartCams. The video footage was replicated to the iRewind cloud. The photos were produced by the customer and also uploaded to the cloud. Using the established cloud processing solution, the personal clips were rendered, the photos were optically indexed, and they were jointly published in a widget. The processing of the thousands of videos and photos was carried out fully automatically in the iRewind cloud.
No special bibs are required to use OCR technology. It doesn't need a special code or a specific font. The best results are generated by black numbers on a white background (the remaining part of the bib can be freely designed).
In the near future, we will also introduce OCR technology for personal videos. This will further enhance the quality of the clips. Issues are timing, auto-cropping and auto-following.
The computer visioning solution developed by iRewind uses several algorithms and pre-processing methods to achieve the best possible results. A big advantage of the product development is iRewind's large video archive of more than one million personal video clips. This allows the system to be trained and optimized through deep learning.
https://irewind.com/wp-content/uploads/2017/05/runningxx.jpg
580
830
News
/wp-content/uploads/2017/03/logoneu_1.png
News
2017-05-08 16:21:03
2022-07-05 11:28:36
Computer Visioning solution successfully deployed at the Red Bull Wings for Life Munich and at the Wizz Air Skopje Marathon