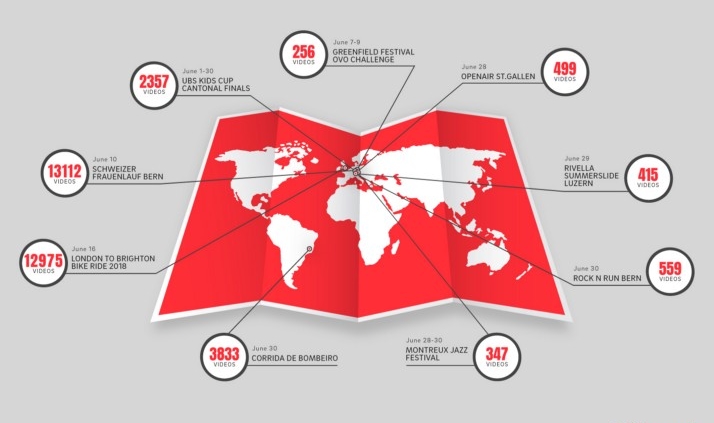 Monthly Rewind: June Edition
June is always a busy month for us. The kids are out of school, friends and colleagues are taking their much-needed vacations, and thousands of people around the world are participating in exciting events that send them home with their very own personalized videos. So, without further ado, here's a recap of the events we attended in June.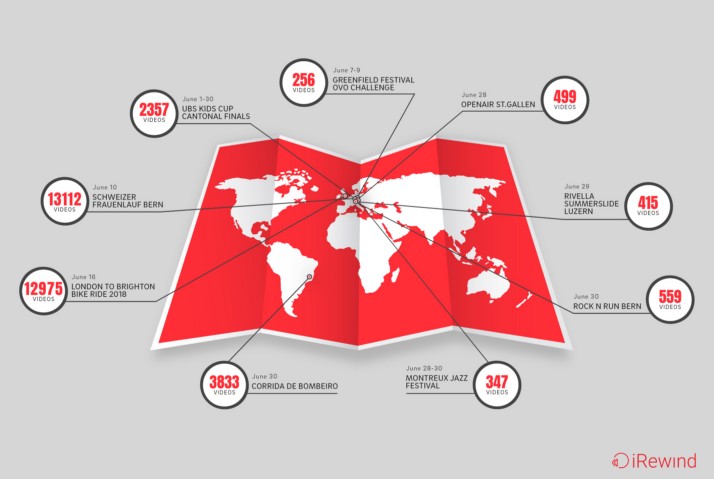 UBS Kids Cup Cantonal Finals 
Every year throughout Switzerland, the UBS Kids cup brings together over 130,000 children to participate in more than 850 track and field events. This month, they hosted seven events (you read that right, seven!) for the cantonal finals. We are always happy to support the award-winning UBS Kids Cup with fun, memorable finisher clips for each of the sprinters.
Greenfield Festival: OVO Challenge
Music lovers got to lose themselves in the music while participating in the OVO Challenge, the hottest dance challenge to hit the music scene since the British set the world record for the largest Macarena. The hip and hilarious personalized music videos were delivered directly to each participant's cell phone, just begging to be shared to social media.
Schweizer Frauenlauf Bern
Thousands of super women descended on the Swiss capital to run, jog, and walk the 5km and 10km courses. The Schweizer Frauenlauf is one of the many popular fun runs sponsored by Migros, all of which feature our live personalized video rendering software and cameras. Along with a sense of pride, each woman went home with their personalized video of their run.
London to Brighton Bike Ride 2018
More than 15,000 cyclists got their hearts pumping at the London to Brighton Bike Ride in support of the British Heart Foundation's efforts to fight heart and circulatory diseases. For 54 miles through beautiful countryside, riders had their highlights captured by our cameras.
OpenAir St. Gallen: OVO Challenge
The OVO Challenge strikes again, this time at the most popular music festival in Switzerland. Festival attendees danced like no one was watching and then went home with their personalized digital souvenir of the experience.
Were you at any iRewind event and are looking for your personalized video? Click here to find it! Don't forget to follow us on Linkedin and Facebook, and sign up for our newsletter to stay informed about all our events.
Rock'n'Run Bern 2018
Bright sunshine, great atmosphere. More than 500 participants fought their way through the course of the Rock'n'Run event in Bern. They were rewarded by the sponsor Clausthaler non-alcoholic with a personal finisher video. Have a look!
Jazz Festival Montreux: UBS Videobox
Pure fun! At the Jazz Festival Montreux, the stars of tomorrow can record their personal video in the UBS video box, which will bring them directly to the festival stage. It is delivered fully automated in just a few minutes. A must see, if on site!
23ª Corrida do Bombeiro, São Paulo, Brazil
On the national fire brigade day, the 23rd Corrida do Bombeiro took place in Sao Paolo. Thousands of runners took part. The place: in the "Parque da Independência" in the district Ipiranga. A great event in the heart of the city and with a lot of history.
https://irewind.com/wp-content/uploads/2018/10/june-edition.jpg
479
714
media
/wp-content/uploads/2017/03/logoneu_1.png
media
2018-07-18 18:05:19
2018-10-18 18:06:13
Monthly Rewind: June Edition