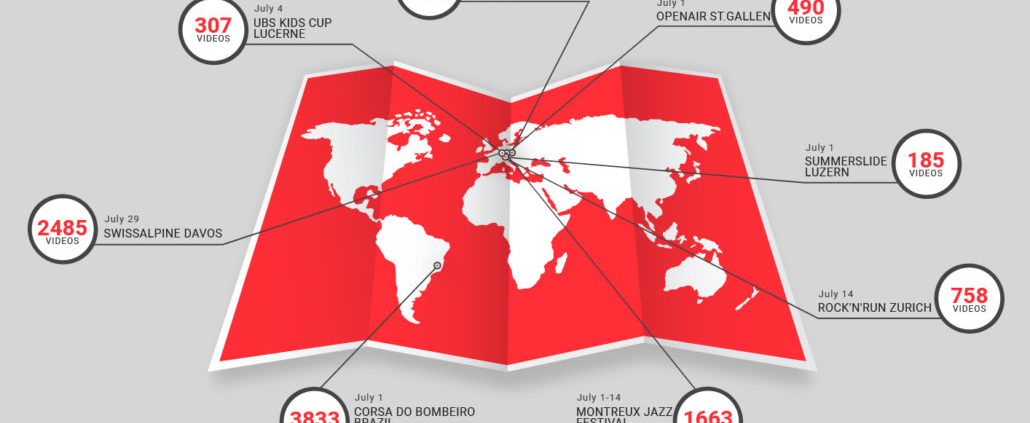 Monthly Rewind: July Edition
When the temperatures outside rise to the max, so does the speed of our rendering machines. We produced tens of thousands of videos last month, delivering personal and shareable moments to performers, participants and professionals. While some events that already started in June continued into July, we also went to new heights and markets producing content at 3000 m above sea-level as well as in the heart of Brazil's biggest city. That's what we call going above and beyond.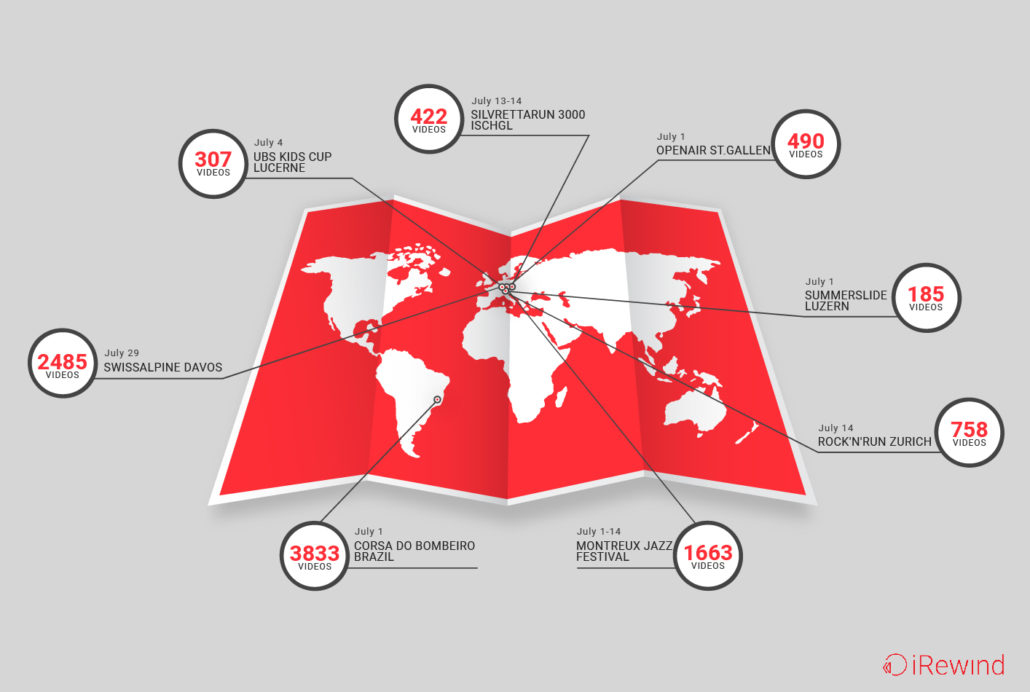 So, here's to July:
UBS Kids Cup Lucerne
This unique format, winner of the Yahoo Sports Technology Award 2018 and in its third season, is currently keeping thousands of kids on their heels as they compete to crown the fastest kid in town.
The picturesque city of Lucerne hosted the Cantonal Final of the UBS Kids Cup on July 4 and iRewind proudly delivered personalized clips to every participant.
Silvrettarun 3000
A running event encompassing a 3000m above sea level peak? Sounds like a challenge, doesn't it? And indeed: the hearts of passionate trail and marathon runners surely beat faster than usual on July 14. The Silvrettarun 3000 took place for the seventh time in Ischgl (AT) and was once again able to set a new participants record. iRewind produced the finisher clips together with our Austrian distribution partner groox, creating lasting memories that surely helped ease the pain of these hurting legs.
Jazz Festival Montreux & UBS
It was party time at the Jazz Festival Montreux. Tomorrow's stars and wanna-be-stars got an opportunity to hit the stage and record their personal video in the UBS videobox. It was delivered fully automated in just a few minutes. The WOW-effect guaranteed lots of shares and likes all-around.
Swissalpine Davos
Switzerland biggest trail running event took place in St. Moritz and Davos. For the first time since its inauguration, the start and finish of the most prestigious race category was not at the same place. Overall, 2'500 runners participated in 12 categories, conquering breathtaking routes and thousands of meters in altitude as well as distance. And once again, iRewind was there to capture the best of many memorable moments.
23ª Corrida do Bombeiro, São Paulo, Brazil
While most Brazilians were still hopeful their team would win the football World Cup in Russia, some fought their own battle in support and honor of the national fire brigade. The 23rd edition of the Corrida do Bombeiro featured a 4k and 10k run and took place in the "Parque da Independência" in the district Ipiranga, close to Sao Paolo. A great event in the heart of the city and with a lot of history. The event that took place on July 1st was realized by our local partner and representative in Latin America.
iRewind continues its growth strategy. This also means that video technology is increasingly being used in areas outside the sports industry. More on this in our August edition. Stay tuned.
https://irewind.com/wp-content/uploads/2018/10/irewind_map_july-1-1030x692.jpg
692
1030
media
/wp-content/uploads/2017/03/logoneu_1.png
media
2018-08-16 17:55:30
2018-10-18 18:00:38
Monthly Rewind: July Edition